New Products
There is always something new for you, select any of our new products.
Our Best Sellers
Add our best sellers to your weekly lineup
[caption id="attachment_1105" align="alignnone" width="300"]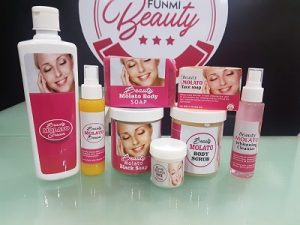 Beauty molato sets[/caption]
Beauty molato sets is our new strongest whitening product and purely herbal product.
Youtube Videos
Checkout our youtube videos for beauty tips and to know more about our products and services
Notice: class-oembed.php is
deprecated
since version 5.3.0! Use wp-includes/class-wp-oembed.php instead. in /customers/6/a/7/funmibeautyworld.com/httpd.www/wp-includes/functions.php on line 4719

Subscribe to Funmi Beauty World
Sorry, there was a YouTube API error:
Access Not Configured. YouTube Data API has not been used in project 1933204838 before or it is disabled. Enable it by visiting https://console.developers.google.com/apis/api/youtube.googleapis.com/overview?project=1933204838 then retry. If you enabled this API recently, wait a few minutes for the action to propagate to our systems and retry.
Please make sure you performed the
steps in this video
to create and save a proper server API key.
Customers Testimonials
What they say

International Shipping
We to over 32 countries both in Europe, Africa and the rest of the world

Support 24/7
Contact us 24 hours a day, 7 days a week

28 Days Return
Simply return product(s) within 28 days of purchase for an exchange

100% Payment Secure
We ensure secure payment with PAYPAL